Home | In the Community | RBC Water Detectives on the Congkak River
RBC Water Detectives on the Congkak River
33 RBC volunteers joined WWF-Malaysia to discuss and identify biological indicators that determine the quality of a major local water source

Kuala Lumpur | November 10, 2018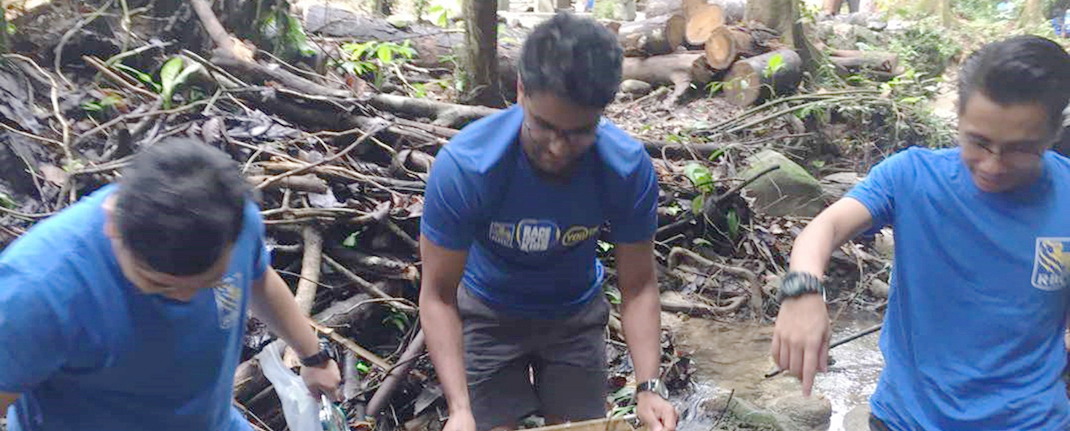 Thirty three RBC volunteers snapped up the chance to make a difference in their local community by becoming water detectives for a day to assess the degree of human and natural impact on the Ulu Langat Basin with WWF-Malaysia. The basin is an important water source for the Klang Valley, home to 7.2 million people as well as our Cyberjaya office.
The expedition up the Congkak River is continuing journey of discovery for many of the volunteers who are amazed at what they find in the river. Set in a beautiful tropical forest, the expedition went up the Congkak River on the Ulu Langat Basin. Once there, the team carried out a range of tests to assess the water quality and identify the type of invertebrates living in the river.
This was RBC's fourth expedition with WWF-Malaysia as part of a three-year partnership with the charity to study and promote the efficient use of water in the Klang Valley. RBC volunteers have worked with schools and local people to undertake a series of case studies on water-efficient technology and raise awareness about the importance of water security.